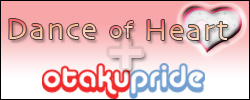 KOU and I were on the Otaku Pride Podcast this past Sunday as the creators of Dance of Heart! We had a great time talking with the guys and girl of the podcast and shooting the breeze about a good number of topics. We dish out some inside info about the story, the development process, and what Dance of Heart is shaping up to be. Since this is EF's major project, I definitely encourage you to listen in and let us know what you think!
Otaku Pride Podcast w/ Special Guest: Dance of Heart!
There have also been some content updates on the Dance of Heart site that you will be interested in if you are enjoying it so far.
Character page has been COMPLETELY UPDATED[link] – Before tonight, that page was empty. Now, base descriptions of all the current main characters are available. As the page says, as the story and the characters develop, the section will continue to be updated with key information.
Community page has been ADDED [link] – I felt that we are reaching a point where we can start actively pushing for more involvement from anyone who may be reading. Though it feels like a shot in the dark, I'm reaching out to readers to get involved with this topic (and the community) in order to hopefully better gauge and interact with the Dance of Heart audience.
Thanks for reading!
_ALEX