EtherFuture is off to a "ROLLING START" with all that we have lined up for our time at AnimeNEXT 2010! Yes we are bent on making that into an internet meme. XD
If you haven't noticed already, the website actually works and has consistency throughout. That's because this past Saturday, I wrapped up the major production kinks and brought us live for active testing. An official (read: long-winded) announcement is something I plan on writing after I've updated the content to bring everything up to speed. It's been a lot of work and took far too long, but it's great to finally quit working on the code & focus on building quality content and community with you and others who support us. ^_^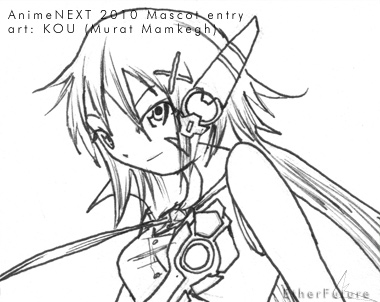 KOU missed the deadline for the Mascot Art competition last year, but this year, he submitted his entry with days to spare. Both of us are really excited to see what the judges will decide, but we probably won't hear any news for at least a month. Once we do though, if KOU's piece makes the finals, we'll be sure to make it known right here!
Next, we are happy to announce that EtherFuture is officially registered for the Artist Alley and are confirmed for a table! On top of that, we have NEW awesomely gorgeous prints that we'd love to show you…but can't. You'll just have to check us out at ANEXT's Artist Alley to see for yourself. Let's just say if you have an interest in VOCALOIDs or Final Fantasy, you don't want to miss out!
Speaking of those prints, they arrived at my doorstep just today! So we already have them on hand and are thrilled to show off the soft, tantalizing style of our Doujin Artist, XION. His fanart of Miyaki Namida, Yuki Senkou, and Yuriko Nara have been featured as EXTRAs at Dance of Heart if you have been following along. Though he won't be with us at AnimeNEXT, KOU and I are hoping you'll find his artwork worth taking home with you. Heck, if we didn't buy the prints ourselves, we totally would buy one! XD
For now, that's all the news I have regarding AnimeNEXT and EtherFuture. Be sure to check in with us for any new updates, get real-time updates via Twitter (I'll be tweeting soon – I promise), and let us know in the comments if we can expect to see you there. Until next!