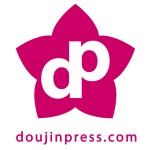 DoujinPress has announced a event for aspiring doujinshi artists to submit a short piece to be included in an anthology. A select few will be offered a commissioned opportunity from DP themselves to be created and published.
We are looking for talented individuals to submit doujinshi shorts to be published as singles or collected into anthologies. The artists behind the best shorts will be commissioned to create full-length doujinshi, and they will be published and sold on DoujinPress.
What makes this interesting are the page limitations of (6, 10, or 14 pages including cover) and the freedom to choose whatever genre you wish. The deadline to submit in order to be considered for commission is July 30th. There are basic requirements listed in their original post here. A complete rundown of their submission guidelines are also available.
DoujinPress is a very young doujinshi seller and publishing company we've known about just a week after they opened. As you might have guessed, as a doujin circle ourselves, we plan on submitting a piece. We have an idea in place and already tweeted/fb'd about it a few weeks ago. At the time, however, it was only a speculated joke. Let us know if you find it (it's really obvious)!
We want to support DP's publishing efforts going forward to spread the love of doujinshi into the Western world and see how it develops. If you plan on submitting yourself, we would love to hear from you! Otherwise, best of luck to everyone producing and submitting to make this a success.