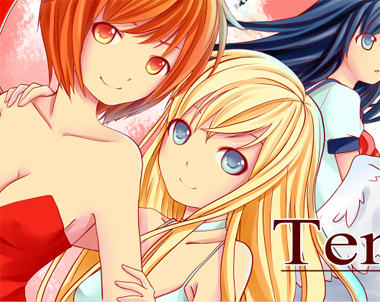 Over at Chuck's Anime Shrine, they (or he?) have begun developing a original game app called Tenshi-Oni for the iPhone mobile platform.
The game's concept and heroine is based around the history of the website's shrine maiden mascot, Fumi, who has the ability to transform into both an Angel and Demon form due to spirits within a mysterious shrine. A number of updates have been shared on their website, including a video preview of the game in action.
Aside from being a great advocate of original doujinshi in all forms, Chuck is actually a friend. Supporting his (and others') work of Tenshi-Oni and the similar effort he is making to incorporate his affection for games and art to make available to the world is what I believe will help encourage & foster a community of doujinshi creators in the West. There's so much talent that's just looking for an opportunity to burst onto the scene. I continue to hope for a day when Western creators can support each other as collaborative comrades rather than as silent competitors.
Development of Tenshi-Oni is still in progress and no news of a beta have been made.
Follow the man himself, Chuck, on Twitter @princetrunks!