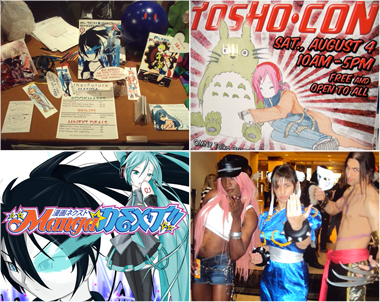 2012 has been a crazy and exciting year for EtherFuture. Read more about what went down after the cut.
To name a few wins we had:
And that's only one side of the coin.
We have ramped up our efforts to make an impact on anime and manga fans, and have been met with significant gains. Thanks to those who have met us and supported our creative efforts with their funds, we have been able to go above and beyond what we have ever been able to accomplish in overall production compared to the previous two years! This is such a motivator for us and we are so thankful to our friends and fellow artists who have shown us love and care along the way.
I would be lying if I said that this was a flawless year. Shipments don't arrive as early as we hoped causing missed sales. We aren't chosen to be in the Artist Alley and wind up sharing space (or have no table at all). An illustration or two under-performs. Too busy on other matters or tired from the real world to share new content. Setbacks happen, but we always suck up our mistakes to make the best of an otherwise unfortunate situation. These three years have been filled with shortcomings, and those errors have taught us how to pivot and remain strategic in how we execute what we do: Providing you with quality, unique items that compliments and reflects our progressive standards.
2013 is right around the corner. We are optimistic that it will be an even bigger year – meeting new people, forming new artistic bonds, and sharing our gifts of vibrant storytelling and dynamic art with all of you. We already have a new, special project that you will be hearing about in the coming new year!
Thank you again for your continued support to empower us with the opportunities for what EtherFuture brings to the illustration & comic doujinshi scene at conventions. We really are at the start of something amazing as our vision takes shape from imagination to reality. Let's keep the momentum going together and inspire each other!
If you haven't already, keep up with us on your preferred social site (Facebook | Twitter) or simply drop us an email.