Posts Tagged 'contests'
During this time of holiday giving, we want to give back to everyone – new and old – who has supported EtherFuture through the years. So we decided to do something big and fun to make this holiday even more impactful and exciting for you. Enter our Holiday Bundle Giveaway event for a chance to win one of every EtherFuture product we have! See the complete list of what you can win, how you can enter, and official giveaway rules below.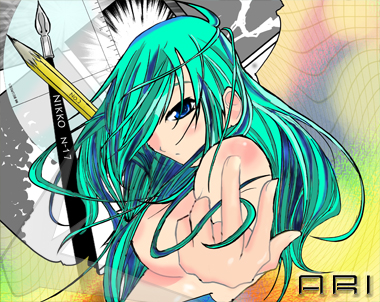 EtherFuture's mascot, ARI | Illus: KOU
Two months have come and gone for everyone, including us here at EtherFuture. I wouldn't be surprised if you took our silence as a negative sign, but the truth is that much has been going on behind the scenes. Reorganizing how we collaborate & produce work. Refining our vision and goals in the long and short-term. Playing catch-up on necessities that have been put off since we began about 2 1/2 years ago.
Trust me. We've been busy. Not just for ourselves, but for you as well.
– ANEXT '11 is going to be very different this year for KOU and I in regards to Artist Alley. We had our first talk about it yesterday and things will start revving soon. More on that below.