During this time of holiday giving, we want to give back to everyone – new and old – who has supported EtherFuture through the years. So we decided to do something big and fun to make this holiday even more impactful and exciting for you. Enter our Holiday Bundle Giveaway event for a chance to win one of every EtherFuture product we have! See the complete list of what you can win, how you can enter, and official giveaway rules below.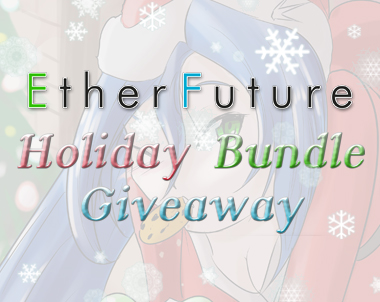 The Holiday Bundle List
Black Rock Shooter X VOCALOID Issue #1 manga (28 pages)
Neon Genesis Evangelion: Asuka Langely Shikigami & Mari Makinami Illustrious prints (Small & Large)
Shounen Jump's Bakuman: Punk Rock-style sketch (8 ½"x11")
Pokemon Black/White: Hilda/Touko (Trainer White) Laminated Watercolor bookmark
Pokemon Black/White: Elesa/Kamitsure (Thunder badge Gym Leader) Laminated Watercolor bookmark
Project: Monthly Illustration Collab 2014 Calendar (custom-made)
Final Fantasy XIII: Lightning print (4"x6")
Legend of Korra: Team Avatar poster (B5 & B4 size)
Project: Monthly Illustration Collab: Time/Fantasy-themed Mural Poster [Features: KOU, Ari-Addison, Grangermama, DJwaglmuffin] (11"x17")
Fate/ series: Saber X Saber EXTRA (B4 size)
How To Enter
Share on Facebook and Tumblr, Retweet on Twitter, or +1 on Google+ to be entered to win EtherFuture's first ever Holiday Bundle Giveaway! To enter:
1) Choose your favorite social media site(s) to submit an entry on:
Facebook
Twitter
Tumblr
Google+
2) Connect with EtherFuture's social media account(s) to confirm your entry:
3) Click the link below to your chosen site(s) and:
4) Lastly, please fill out this important form that will auto-compile everyone's entries for random selection and help us to announce and contact a winner much more quickly.
5) Repeat Steps 1-4 for multiple chances to win. You CAN enter once on all four sites, but CANNOT enter more than once on any site.
Good luck to all of you and happy new year!
Official Rules
One (1) prize will be awarded.
Entries will be accepted through December 31, 2013.
This giveaway is open to anyone in the United States and Canada 14 years and older. Entries for those under age 14 will be discarded. By entering, you are stating that you are 14 and over. No purchase necessary.
Members of EtherFuture are ineligible. EtherFuture is not responsible for lost, late, or misdirected entries. Duplicate entries will be discarded. EtherFuture is not responsible for any typographical errors in the giveaway.
The giveaway is only intended for legal residents of the United States and Canada.
Minors under the age of seventeen (17) must obtain the signed consent of their parent or legal guardian to receive the prize. By entering, participants release EtherFuture and their members from any and all liability for any injuries, losses or damages of any kind caused by any prize or resulting from acceptance, possession, use or misuse of any prize or participation in this drawing.
Except where prohibited by law, participation in the giveaway shall constitute and signify the winner's consent that EtherFuture may use the winner's name, address, likeness, photograph, statements made by the winner about the promotion or EtherFuture and/or prize information for promotional purposes without further payment or consideration.
The grand prize winner shall be notified within seven (7) days of the conclusion of the drawing. If a prize is won by a minor, prize will be awarded to a parent or legal guardian on the minor's behalf. In the event of noncompliance with these requirements, prize may be forfeited and awarded to an alternative winner. Prize notifications returned as undeliverable or unclaimed will be deemed forfeited. Void where prohibited.