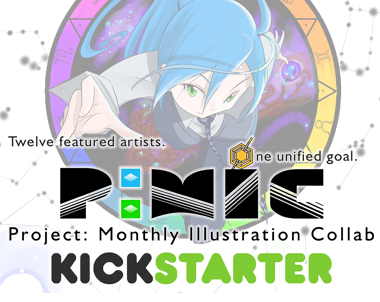 After a brief preview period to the public, I am pleased to announce that Project: Monthly Illustration Collab's Kickstarter campaign for producing a 2014 calendar is now live! EtherFuture has worked tirelessly since the beginning of the year – and moreso since May – to make this campaign as memorable and worthwhile as possible for you and others. I am very proud of the work we have done together as a group, and hope that our honest efforts will not go unnoticed. Please, have a look:
P:MIC Kickstarter URL: http://www.kickstarter.com/projects/etherfuture/793730648
What's in it for you?
We have a bunch of tempting Pledge Rewards to make it worth your while. Not to mention, all the art and nearly all design work was completed before we launched. Having all the rewards ready for print before is not fairly common, but we believe in showing you exactly what you can receive before you decide to become a Backer.
Here's a preview list of what you can expect to see:
100% custom-designed 2014 calendar from 12 different artists
Wallpaper downloads
Development sketches
Create your own character
Special occasion postcards
…and more!
Check out samples of most of the rewards on our campaign page. Some of the rewards are only for a limited number of people, however. So be careful not to wait!
Why was EF so quiet about the Kickstarter until now?
P:MIC has been an ongoing endeavor since the beginning of 2013. We made a formal announcement about P:MIC in March, but talk of crowdfunding was not in the equation at the time. Over time, we quietly found enough artists interested in the collaboration to participate and, soon after, shifted to high gear towards making P:MIC's artwork something we could proudly distribute to a limited number of people.
EtherFuture has a keen belief in maintaining secrecy of project development (we do leak here and there) until we can deliver upon promise. We ran into setbacks, revisions, and rescheduling, but we made it. We even did something unconventional by making our entire campaign viewable to the public before launch through the P:MIC web page. Our campaign video was added upon going live to keep the campaign fresh. Despite taking a few risks, we wanted to do this right and not disappoint.
What's next?
P:MIC is meant to encourage the spirit of collaboration & originality, and be an inspiration among independent artists in the West and around the world. As the Creative Director & leader of EF, I will be personally communicating with Backers to answer their questions and concerns. Watch our campaign video below and have a glimpse of we have to offer.
Thank you in advance for your support, and hopefully I'll see you on the other side.
// Alexiel //