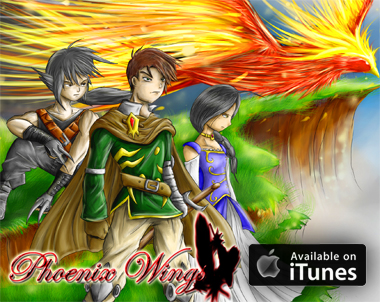 As Episode Twelve of Phoenix Wings continues to be polished for our listeners, we released a brand new promo trailer that debuted at Miraicon a few weeks ago. This promo trailer highlights key events of the previously released episodes up until Episode Eleven and also includes a lovely key illustration done by talented artist and long-time friend Leanne (Facebook page).
Watch the Promo Trailer:
Phoenix Wings continues to be our labor of love available for free download on iTunes and YouTube. We are working hard to make this fantasy adventure audiobook series the best it can be. If you are new to the series or would like to support our work easily, you can Like the Official Page for updates and extras or Subscribe on iTunes to download new episodes as they are released.
And as always, EtherFuture is all over the interwebs. Click your favorite icon in the sidebar to keep up with all things imaginative.