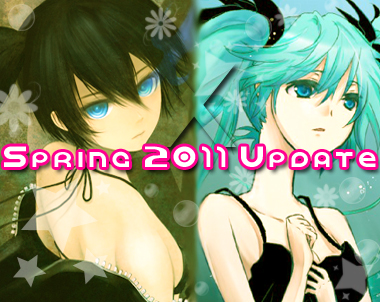 We have some exciting news to share regarding our doujinshi production, anime conventions, and where we're headed going forward. Don't get left behind and read on!
EF Doujin News
Our very first commissioned one-shot doujinshi manga, Kingdom Hearts re:VISION, is COMPLETE! We finalized this yesterday and we're happy it's packed up and ready to ship in a word. We want to make this available for download online as easily as possible as soon as possible. We're also in the process of finding out if a print run will be worth the expense. I'll be making moves on both in the coming weeks. Teaser pictures are also posted on our Facebook page.
Our entry for Yen Press's 1st annual Manga Talent Search was sadly not chosen, but we are excited to finally announce our entry: TRIAL PHASE! This 32-page manga piece is what delayed the completion of re:VISION, as we switched gears mid/late-November to produce this by January 3rd. We probably won't get around to fixing production errors on this, but TRIAL PHASE is a raw, monumental accomplishment nonetheless that grew our skills & determination to meet a hard deadline & specific requirements like pros. We will be making this available for download also. Print is desired, but re:VISION will set the standard.
BLACK☆ROCK SHOOTER X VOCALOID has entered the Storyboarding phase. This means I am "drawing" up my visual interpretation of my Script in panel format to direct KOU's production so no assumptions need to be made on his part. I'm shooting for mid/late April to complete this phase, though the Production phase will likely start before that happens. We're hoping to build some support, and share in both print and digital download. If you're a fan, you don't want to miss this intense story even if you hate it.
We're entering Shounen Jump's Bakuman Fan Art contest. This is something we're doing on the side purely as big fans of the series. Though KOU is obviously drawing everything, the presentation behind the core concept is a team effort that initially came to me in a dream. We'll be sure to post it up on Facebook when we've submitted to share with you!
More details are available on our Projects page.
Anime Convention News
AnimeNEXT 2011: We're on board for this convention as usual, hotel stay and all. However, we, along with many of my comrades, wound up on the Artist Alley waiting list. KOU and I have yet to register our con badges because we were counting on landing a table and only having to pay entry level badge fee. We know we aren't the only ones who were. We'll update as things play out.
Castle Point Anime Convention: KOU and I had no intention of hitting this con, but thanks to the invitation from an EF supporter & good friend of ours, we'll be wandering this con this weekend. I'll be wearing my signature Japanese Winter School uniform and accompanied by a Faith [Mirror's Edge] cosplayer (our good friend). We're all pretty excited to attend for the first time!
Moving Forward
We would certainly like to be able to interact better with those who have stopped by this site or otherwise. If you're interested in keeping in touch, asking questions, or just plain old stalking, here's how you can:
Follow us on Twitter @etherfuture. You'll receive bite-sized updates of progress, inside thoughts on our meetings, blog updates, and other useful tidbits about manga and doujinshi we come across. Plus, we can answer your questions/concerns if you don't want to leave a comment on our blog. Just click the Twitter icon in the sidebar and you're set.
"Like" our Facebook Page: You can do this right now via our sidebar widget. By showing your support this way, you gain direct updates of exclusive production art, teaser images of upcoming projects, and videos we produce. Not to mention, it's the perfect way to find out our convention plans, let us know you'll be there too, and see any pictures that we may snap while we're having a blast.
Email works too: Write us at contact at etherfuture dot com and we'll be glad to have a conversation or give a free consultation based on what needs you might want to have fulfilled.
All in all, we want to be open and social with anyone who likes art, people, and, hopefully, us. We're working very hard to engage our audience and make an impact on the anime/manga community. We have many ideas, and we believe there are others who have awesome ideas too that we can help or exchange with.
Every crazy idea has to start somewhere. Maybe one day, doujinshi by Westerners could be on the [digital] shelves just in Japan or like comics in America. We recognize that it starts with us, and then with you: The Fan.