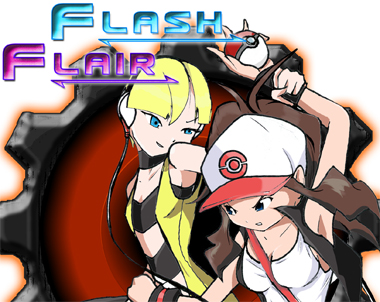 In our article highlighting DoujinPress, we announced that EtherFuture would be submitting a manga doujinshi piece for commission consideration. Since then, we have kept quiet about our progress, save two production pictures we posted on our Facebook Page and a few choice tweets. In the end, our hard work and determination has paid off yet again.

And this time, we gained more than just a completed piece on a hard deadline…
I am excited to officially announce – on my birthday no less – that EtherFuture has been accepted into DoujinPress's very first Doujin Short Program for publication and distribution of our latest Pokemon Black/White doujinshi, FLASH FLAIR! The doujin features Nimbasa Gym Leader Elesa and White (Hilda). Only two doujinshi were selected, with the other being a very pretty-looking Puella Magi Madoka Magica doujinshi. I may pick that up myself as a fan of the anime and firm supporter of fellow creative talent. DoujinPress has made an official post all about this as well.
For starters, I doubt anyone remembers this tweet: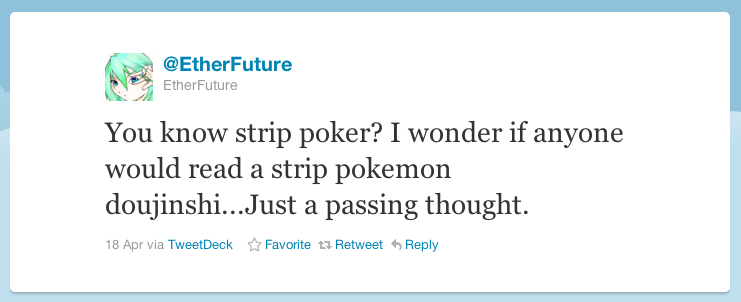 Later, I randomly asked everyone on my Formspring account if they would prefer a yaoi or yuri Pokemon doujinshi. The mass majority favored yuri. At the time, I had no intention of actually writing a yuri-based "strip Pokemon" story. However, DoujinPress released news of their Doujin Short Program, and the rest is history.
FLASH FLAIR is an example of a random idea and our desire to challenge ourselves creatively coming together in a big way. We have been given our first opportunity to showcase our creativity with a budding company that beautifully compliments our vision.
And this is where you come in…
FLASH FLAIR is now available for pre-ordering on DoujinPress.com for only $2.99 (12 pages). Previews are available both there and in a slightly larger resolution on our Facebook Page. If you like what you see and want to support us, please consider purchasing our work. Or if you have friends who like Pokemon (and who doesn't), please share this article with them.
Don't forget that you can contact us anytime on Twitter or Facebook. I'm also using Google Plus if you would like to add me to your circle.
This is only the beginning and there is much to be done yet. Stay tuned for more information in the coming weeks on what's coming down the pipe.
As always, thanks in advance for any support offered. We appreciate it very much.