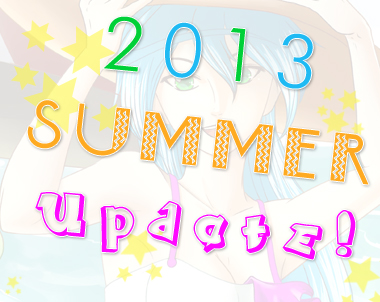 BG art: DJwaglmuffin
We have been sticking to Twitter and Facebook as of late, but it's time for another update! That rhyme was completely unintentional I swear.
AnimeNEXT & Otakon 20(13)
Left to right: KOU (Vega), AngelSora (Ibuki), ALEX (Poison)
EtherFuture cosplayed together, I ran around meeting online friends for the first time, and individually we had a great time at both of these conventions. We cosplay purely for the fun of it, and I'm usually too occupied (or just a cosplay newbie) to remember to exchange info with the guys & girls with the serious photo lenses. I do try to obtain quality photos from them when possible. Like this one of me from ANEXT as Poison (on the right). You can see our whole Otakon 20 gallery here!
Also, at Otakon, my friend, Adam Tilford, creator of the Shattered Heaven novel and original animation, roomed with us. Lots of great discussions and exchanges of creative work happened over con evening downtime. As a mostly solo animator, his work is well worth the attention it has garnered. You can check out the newest release of his rebooted mecha animated series on YouTube or Newgrounds where it has been featured on the front page for nearly a week!
I should mention that just because we are cosplaying more doesn't mean that we have hit the breaks on everything that makes EtherFuture a doujinshi group (and, as of late, more of a grassroots small business). For the 2nd year in a row, we could not get into ANEXT's Artist Alley, and that has been the best thing we could have asked for.
Project: Monthly Illustration Collab

Early 2013 was spent getting EtherFuture's most ambitious project ever off the ground. We were looking for eleven artists to collaborate with to produce one month-themed illustration, featuring our well-dressed, azure-haired mascot, ARI. The result of this project would be to feature their artwork across Facebook and Twitter, as well as promote them for the month they chose. That was our very simple goal and we achieved it earlier than expected.
We did not stop there, however.
PHASE II of P:MIC has been in full swing since May. We are going bigger than ever, thanks to a few P:MIC artists who have stepped up to help bring a beautiful, limited product to EtherFuture's supporters and beyond. Myself, along with the EF Group, have been working hard to make this effort a success. I can't say much else other than follow us on Twitter & Like us on Facebook to keep up with updates and new developments sure to come in the next month or so.
Black Rock Shooter X VOCALOID: Issue 2

P:MIC has slowed things down with production. However, not having to worry about prepping for Artist Alleys all year has given us a lot more leeway to keep quality high and make sure Issue 2 is done even better than Issue 1. Though Issue 2 is already a year and a half into production (approximately how long it took to produce Issue 1 off and on), we are still aiming for a 2014 release. Rest assured that fans of our series can look forward to a multi-layered storyline, a unique interpretation of BRS & the VOCALOIDs, and a visual feast for manga-lovers everywhere.

Thanks for reading our Summer update! We manage to be fun & casual while maintaining our focus on specific projects. 2013 is a year of growth and preparation for us, with 2014 promising to be a very active and ambitious year. Please feel free to reach out to us for any questions or comments. We create not just for ourselves, but to inspire you.
As a special thank you for reading, here's a never-before-seen, exclusive preview from one of the artists we are collaborating with for P:MIC. Hope you like it!
Let us know what you think on Facebook or Twitter. Hope you are as excited as we are!