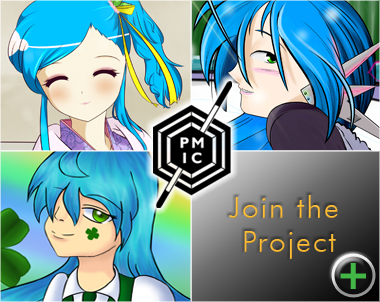 How P:MIC Came About
Around the end of 2012, some musings were made over Twitter that got me thinking about the state of the anime convention community as it applies to those participating in the Artist Alley. There is this sense that we are all united by our appreciation and common respect for creative expression. However, whether we like it or not, there is an unspoken tension among us in order to make the most sales so we can break even on the various investments, print a new illustration, or, in more extreme cases, eat and pay our bills. Our own personal needs and goals can sometimes take center stage and trump opportunities to open up to other artists. Perhaps, it may appear as though we, as artists, are on our own little island, advertising our wares to drawn in as many tourists as possible.
This is not always the case. I have seen and heard of many artists doing art trades, doing free sketches to cheer people up, and, of course, donating to other artists and receiving beautiful finished works in return. These are all well and good, but I am deeply interested in the growth and development of bonding with other artists. Active communication and collaboration has the potential of bolstering each other's user base even further through simpler means rather than relying on hardboiled, singular tactics as a lone island.
What is P:MIC?
Project: Monthly Illustration Collab (P:MIC) is a modestly ambitious idea meant to encourage the proliferation of open communication through artistic contribution and community-building activity. The "artistic contribution" comes in the form of an artist's own illustration being featured and promoted through EtherFuture's online channels. The "community-building" occurs through the mutual two-way communication and sharing of creative ideas from start to finish. By the end of each month, we hope to have made a new comrade that we can support and meet up with at cons.
We were also very fortunate to get some press for this project. Fast-growing Japanese anime/manga/culture company, GoBoiano, had their Editorial division interview myself & my co-founder/Lead Artist, KOU. It's worth the read, detailing in our own words exactly where we want to go with P:MIC.
What You Need To Know
The specific requirements for participating are:
The illustration must be themed around the month of your choosing. For example, August, for many, usually means the end of Summer fun. The atmosphere of the illustration could focus on a beach sunset, the onset of a starry night, and a silhouette.
Any art style is welcomed. If you have an anime style and want to try realism, please do.
Though a measure of competence and effort is expected (i.e. you have been actively practicing for over a year and grasp basic anatomy), any experience level is welcomed. What matters most to us is your will to grow and touch lives with your art. Maybe this is the challenge you need to get to the next level.
The illustration must reflect an aspect of EtherFuture. We made this easy for everyone and have provided artists with downloadable references of our mascot, ARI. If, by chance, you know us personally or know our work, feel free to incorporate those elements as well.
We must approve your concept sketch before you begin. We want this to be fun and free-flowing, not an editor's nightmare.
The illustration can be "mature", but not pornographic. Meaning, it should not need mosaic censoring. We want to collaborate with all types of artists and the last thing we want to do is limit creativity. If ecchi is your thing, please contact us and let's talk.
The illustration must use the following specs: Landscape / 11″x8.5″ / 300DPI / CMYK preferred. Any starving artist knows these are specs for print work. No, we aren't going to print and sell your work, but we would like to work with all 12 artists on another related project. More on that later.
We must have the final HQ illustration file no less than 2 DAYS before the 1st of the month you have chosen. PSD, TIF, or PNG is fine.
If you often worked with another artist to create singular works together (ex. Character artist / Graphic designer), you may do so for this project. Forming a team specifically for this project is not allowed.
How Do I Join?
Please fill out our brief P:MIC Form (will take you 2 minutes max) and read the instructions carefully. We will make an effort to keep the form updated so that artists know which months are still available.
Please send all art and questions to ef.pmic@gmail.com.
If we can have nine artists become project members for the remaining months before the end of Summer 2013, this project will go into its next phase: A 2014 Calendar. We want to make this worth your while, and give you a chance to really own this collaborative vision. For that reason and more, this won't be just "another calendar" to anyone who sees it.
I have already plotted a tentative production timeline to get this done (with your help, of course). More information will be released, but only if we can meet our artist quota in time. If you would like to see this happen, please help spread the word about P:MIC and/or participate as well!
Sounds Great and All But…
At the end of the day, we all do want to have our individual hard work recognized, loved, and make bank. We understand you. However, EtherFuture has found success and support in fostering trustworthy relationships with other artists; we realize that this kind of thing is difficult to obtain when you're alone.
In this hyper-connected age, we want to believe that taking action on behalf of our community of amazing artists and pooling together our energies will bring about a revolution in how we all interact and do what we do best.
If you're busy with commissions or other group projects, that's wonderful! You should certainly pass on participating. As for the rest of us, let's get excited to encourage and spread a not-so-unorthodox approach.
With this unified goal in mind, I sincerely hope we can work together to make Project: Monthly Illustration Collab a success. Thank you.
ALEX Ninamori
Co-Founder & Creative Director of EtherFuture