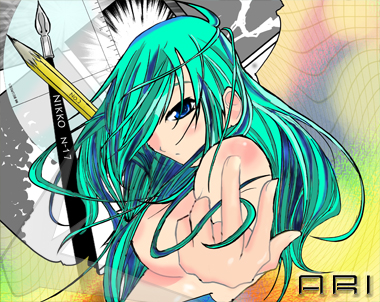 EtherFuture's mascot, ARI | Illus: KOU
Two months have come and gone for everyone, including us here at EtherFuture. I wouldn't be surprised if you took our silence as a negative sign, but the truth is that much has been going on behind the scenes. Reorganizing how we collaborate & produce work. Refining our vision and goals in the long and short-term. Playing catch-up on necessities that have been put off since we began about 2 1/2 years ago.
Trust me. We've been busy. Not just for ourselves, but for you as well.

Services Page Open
The website now has a proper Services section, detailing everything we can provide to help you cultivate and satisfy your creative needs. Finally filling this necessary missing piece of our site after so long is relieving. We suspect that our Doujinshi Shorts service will be the most appealing, but I encourage you to browse and see if we can make something or someone "real" for you.
Mailing List = Free Doujinshi
We also have created a Mailing List (see sidebar) that will help us maintain a dedicated list of people interested in what we have in the works, events we attend, etc. You also receive our very first commissioned Doujinshi Short for free just for signing up! This doujin is an exclusive offer and won't be available any other way. Joining our listing means you won't have to necessarily visit the website or use social media to keep up with EF. We hate spam also (and would rather be creating cool stuff anyway). So expect only the occasional delivery straight to your inbox if you decide to sign up.
If our Services and Mailing List with complimentary doujinshi haven't excited you, maybe the following news will.
Twitter Giveaway
I'm happy to share with you in advance about our very first Twitter-based doujinshi giveaway! We want to reward one of our devoted Twitter followers with a free hardcopy of our latest doujinshi, Flash Flair. Entering is easy:
If you aren't following already, follow @EtherFuture on Twitter.
Retweet (RT) any #EFgiveaway announcement from @EtherFuture when it appears on your timeline before Oct. 31st.
You are now eligible to win!
If you are the winner, our mascot, ARI, will tweet about the winner on Nov. 1 and send a DM with further instructions.
The giveaway will start randomly some time this week. You may want to go ahead and get a head start by clicking the "Follow" button in the sidebar.
BRS X VOC Update
Here's a secret: The majority of visitors to this site in the last couple of months have been through VOCALOID-related keywords. This leads me to believe that there is certainly an audience for the Vol. 1 release of our Black Rock Shooter X VOCALOID doujinshi. It's been…six months (wow…) since I last said anything about it. Rest assured, the project is still on target for an early 2012 release.
More updates and announcements to come in the near future. We have much to do as always, but feel free to say hi on Twitter, leave a message on our official Facebook Page, or write us at contact at etherfuture dot com.
Thanks for sticking with us!