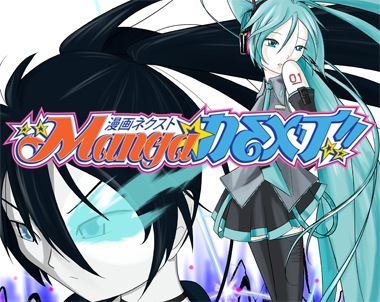 We are happy (and fairly relieved) to announce that EtherFuture will be debuting the first of a series of doujinshi manga, Black☆Rock Shooter X VOCALOID, MangaNEXT's Artist Alley!

This is an exciting undertaking that we have been looking forward to releasing publicly for close to a year. There is something quite amazing about this particular doujinshi and story concept that sets it apart from anything we have ever put out in the past. Then again, if you have followed our humble circle from the beginning, the growth of our laser attention to imaginative storytelling and gripping artwork to create a complete, self-produced work speaks for itself.
Black☆Rock Shooter X VOCALOID raises the bar of EtherFuture's already high self-expectations that we believe have the potential to surprise avid doujinshi readers & manga fans alike. By producing a rolling series, readers will have a chance to follow their favorite VOCALOIDs, reimagined in a fun, exciting, and refreshing way as they clash with the highly popular, complex character, B☆RS. As the one who both writes and edits BRSxVOC, there's no doubt in my mind that fans will either love it or hate it…
…and we want you to find out.
For more information about BRSxVOC, check out our past Updates or our Similar Posts links below.
Don't forget to:
Like us on Facebook
and
Follow us on Twitter to keep up with news and exclusive extras posted by our mascot, ARI.
It's been well over a year since we last had a spot in an Artist Alley and we hope to earn more opportunities in the months to come. As always, we look forward to chatting with you personally about manga, anime, and doujinshi at MangaNEXT 2012!